Dune Buggy offroad trip
Off Road Dune-Buggy Open Desert Safari Tour
Open desert buggy Excursion | Dune Bashing in Doha Qatar | Polaris Buggy Rental In Doha Qatar
Go on a Polaris buggy ride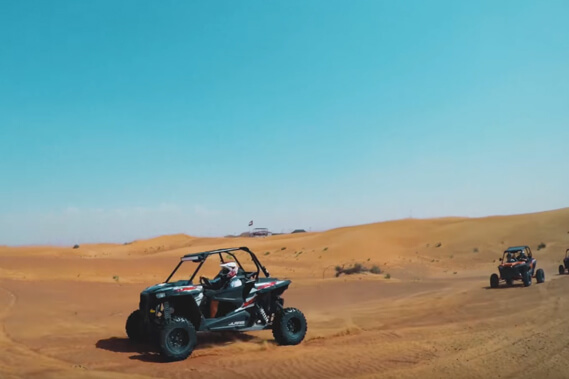 You are a fan of driving, but especially on off-road courses. To satisfy your desire for adventure, you drive in the deserts of Qatar on a powerful off road 4×4 Polaris RZR 800cc / 1000cc desert-buggy
The buggy is a light vehicle, between the 4×4 and the quad. At the wheel of this modern craft, you discover the landscapes of open desert in Doha Qatar.
You start your activity 30 minutes before, to settle the administrative formalities. Our company professional team welcomes you, you get in shape quickly and you will be participating in a briefing that includes the safety instructions to be observed, and presents the route and the stages of the desert adventure tour. It's very important to  listen to our safety instructions carefully, so it will be very easy for you and for us to successfully complete your unforgettable safari-tour.
Once the few maneuvers operated on the buggy, the trip can begin. You can enjoy and have fun driving buggy by yourself or with your friends or family. Very important, all the youth enthusiasts should remember that it is a guided sand dune-tour and not a buggy-racing event.
You ride/drive in a modern Polaris RZR 800cc / 1000cc dune-buggy. They all have an automatic transmission to facilitate driving, and safety roll cages, so you can just enjoy the scenery.
How to drive-a-buggy in the desert
Driving this machine is very easy but you may need some expert help to drive a buggy in the desert, our company staff can help and teach you the tricks how to handle  UTVs / Buggies in the desert.
How to rent a Dune-buggy in Doha-Qatar
Renting a Polaris-buggy is easy, just send us a email using our contact form with all your details (which date and month, how many people ect. ect.). So we can arrange you the buggies.
For more information about this self-driving buggy trip, cost, price or bookings please send us an email with our contact form or send us a whatsapp message so we can send you a quick reply.
Contact
Check out our other desert-off-road packages & services