Buggy Rental Qatar – ATVs and UTV hire in Doha-Qatar
Buggy Rental Service in Qatar | Dune Buggy Hire Rates / cost / price in Doha-Qatar
Buggy Rental / Hire in Doha – Qatar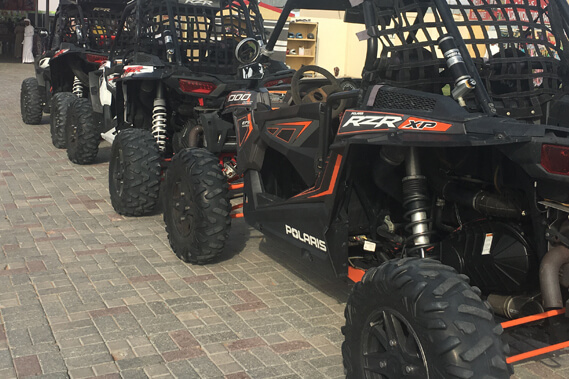 If you want to drive in style in Qatar deserts the best way to enjoy your adventure tour is to hire a Polaris 4×4 off-road dune-buggy.
Renting a Buggy in Doha-Qatar
One of the best ways to explore Qatar's deserts is to rent a dune-buggy, with our rentals services we will make sure that you will drive in style and have a lot of fun with safety at the same time. Our buggies are new, clean and in perfect condition and we offer the best price for our clients with quality service.
As a company, our client's comfort and safety is very important for us therefore all our Polaris off-road dune-buggies equipped with a full roll cage, full safety harnesses & bucket seats.
Why rent a 4×4-buggy in Doha-Qatar
With a powerful off-road-buggy you can enjoy the beauty & explore  Qatar's golden sand dunes without worrying, that your vehicle get stuck in the sand and with the automatic gear modern and latest buggies are very comfortable and very easy to drive.
Safe and easy Reservation via our contact form. Enter the desired pick up & drop off details then choose your 4×4 and enjoy the drive with your dune-buggy in Doha-Qatar
If you need more information please send us a whatsapp message so we can send you a quick reply or send us a email via our contact form.
How to drive-a-buggy in the desert
Driving a buggy is very easy but you may need some expert help to drive a buggy in the desert, our company staff can help and teach you the tricks how to handle  UTVs / Buggies in the deesrt.
How to rent a Dune-buggy in Doha-Qatar
Renting a Polaris buggy is easy, just send us a email using our contact form with all your details (which date and month, how many people ect. ect.). So we can arrange you the buggies.
For more information about rental, cost, price, timing and offers please send us a message using the contact for or a whatsapp message.
Contact
Check out our other desert-off-road packages & services