Jet Ski Safari Tour in Qatar
Jet Ski water sport in Doha Qatar | Jet Ski tour in Corniche Qatar | Jet-Ski tour Offers and cost / price in Qatar
Qatar Jet-Ski Water Sports Excursion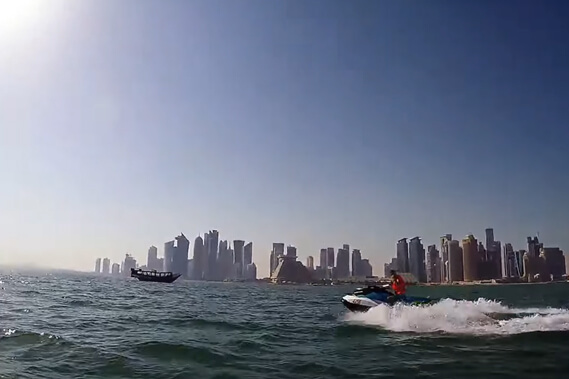 Are you on vacation in Qatar and you're a water sport enthusiasts? now you can discover Doha Qatar through our jet-ski and fly board tours. Our company welcome you every day on our covered base located in Doha. Our qualified & certified instructors provide you an detailed  introductory session on the use of Jet-ski or on a Fly board and its controls, before your leave on your jet ski adventure tour!
Our company expert certified staff guides the tour, everyone goes at their own pace with their own jet ski, you can follow him, alone or with a passenger. Your guide will stop in several places, in front of Doha Qatar's iconic skyscrapers during the trip for a short photo session for your memorable jet ski tour in Qatar.
For fly boarders, head for the beach next to the base, try to go as high as possible. Our company guide give you instructions how controls the power of the jet and lets you evolve at your own pace. You will be provided a safety gears, so you don't need to worry about safety.
Our company instructors / staff speak good English so they can communicate with you without any issues also they are certified for the practice of jet ski and fly board, as well as for your safety in the base or at sea and you will spend a good time at sea safely regardless of your level, whether you are a beginner or an experienced jet ski rider. If you're an experienced Jet-ski rider then can test a little more your limits in the meantime
For our jet-ski enthusiasts, we have chosen stable and powerful jet-skis which we take great care of and we make sure this powerful machines always in good condition and ready to use.
For more information about the Jet-ski tour or Rental in Doha-Qatar please send us an email via our contact form or simply just send us a whatsapp message for a quick reply.
Contact
Check out our other desert-off-road packages & services