Quad bike tour Qatar Package – Quad bike ATV Safari in Doha
Quad ATV Bike Rental in Doha-Qatar  / Qatar Quad Bike Riding Tour / Quad Adventure Safari Doha-Qatar / ATV Bike Tour Qatar
Quad bike Adventure tour Qatar – ATV Bike Safari Doha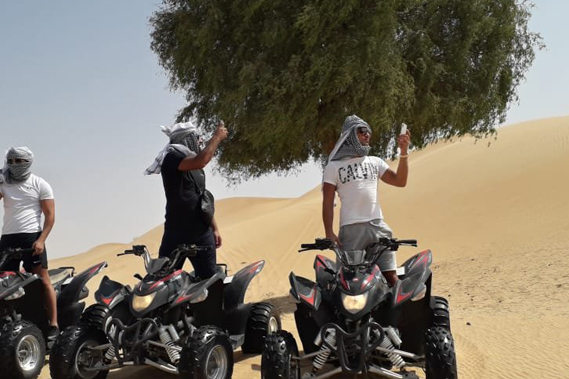 Quad Bike riding / driving tours in Doha Qatar is the latest model of off-road desert exploration. when there's lot of sand dunes around and the journey via them is something that satisfies your thirst for adventure and velocity. you may derive out of this journey a combined feeling of nature & fun and click some pictures during you're Quad ride adventure. Ride on one of our 330cc, 400cc (Automatic gear), 700cc (Raptor with manual gear) Quad bikes / ATVs over the ever changing desert dunes (open desert  Quad biking tour with guide).
Qatar Quad-Bike Safari-Tour is an excellent experience that will take you to the zigzagged deserts of Qatar on a powerful ATV,  jump high in the air in the wings of adventure and let the adventure capture your inner fear with this specially designed off-road ATV vehicle for the purpose.
Quad biking is one of the popular sand sporting activities in Doha-Qatar. Also one of the favorite adventurous activities not only for youth, but also for adults, kids, and families who are looking out for something fun full and challenging at the same time in their life. Quad-biking tempts the riders & fun loving people to visit Qatar just to get a taste of this adventurous bike riding in the golden sand dunes.
Qatar Quad bike Safari tour comes with a full package or as a custom trip. This Quad-ride trips also can be booked at same time with both the evening and overnight desert safaris. Quad-biking Desert Tour is the modern way of the 4×4 off-road desert explorations.
Our guests no need to worried about their safety of the journey. Total safety measures are taken which will ensure the security of client's . before you venture beginning with the Qatar quad-bike tour safety instructions will be given by our expert guides. Its very important to  listen to our safety instructions carefully, so it will be vary easy for you and for us to successfully complete your unforgettable safari-tour.
Minimum age required for the Qatar quad-atv-bike tour is fifteen (15) years. Safety gears like Helmet and goggles will be provided for the use during the tour. Very important, all the youth enthusiasts should remember that it is a guided sand dune-tour and not a quad-racing event.
You can have one hour quad-bike tour or more than one hour (Pick and drop on Request)
Type: ATV Safari drive desert-tours ,Off road fun and Quad/ATV Bike safari or tours
Departs from: Doha-Qatar
Meeting Point: Pick up at your hotel, residence, cruise terminal or airport
Available: Daily
NOTES:
The Minimum age for driving is 15 yrs.
Helmet and goggles provided.
For more info  about  Quad/ATV-bike tour Qatar Package, deals, offers and cost/price or bookings
Contact
Check out our other desert-off-road packages & services