Dune Buggy Safari Qatar – Qatar Buggy Adventure Desert Tour
Dune Buggy Tour Qatar / Desert Sand Dune Buggy Safari / Dune Buggy Driving, Hire – Rental in Qatar / Dune Buggy Ride locations / Qatar Dune Buggy Safari Tour Package
Dune Buggy ATV Safari & Dune-Bashing Qatar Package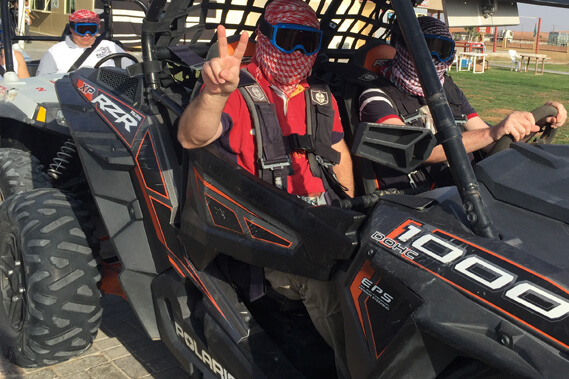 This is a half-day ATV safari excursion. Leaving Doha-Qatar early in the morning or later in the afternoon. Our expert desert safari tour guide will take you from your hotel or residence for a short drive into the safari start location where our dune-buggies / ATVs  will be ready and waiting for you. Before departure some simple basic instruction and a safety information will be given to all buggy-riders then we will be heading off for a up and down roller coaster like drive through the smooth Qatar's golden sand dunes where you will have the opportunity to lead the convoy if you feel the urge.
For us, our client's comfort and safety is very important therefore all our Polaris off-road dune-buggies equipped with a full roll cage, full safety harnesses & bucket seats. You will be able to experience the thrill of these awesome Dune Buggies designed especially for the Desert with our expert desert tour guide.
Dune-off-road-Buggies are not quad-bikes because Some people think buggies just like quads, no there is a huge difference between with quad bike safari ride and powerful off-road dune buggy and buggy-safari drive tour.
– The minimum age for driving is 18 yrs
– Helmet and safety goggles will be provided
– Disclaimer form against damage and personal injury required to be   signed
– Certificate provided at the end of the safari
Tailor made packages can be arranged for larger groups by offering additional activities as well as dune-buggies.
Days of Operation: Daily
Pick up times: 08:00 – 09:00  / 14:00 – 15:00
The client will be responsible for any additional insurance cover and Desert Rangers and its employees shall not be held responsible for any loss or injury caused during the trip.
This quotation is valid for 30 days only.
For more info  about  Dune-Buggy-Safari Qatar Tour Package, deals, price/cost or bookings please contact us via our contact form or send us a whatsapp message for a quick reply.
Contact
Check out our other desert-off-road packages & services