honda atv
ATV Quad self-riding tour in Doha-Qatar
Quad ATV Bike Ride Excursion Doha-Qatar | ATV Quad-bike Rental / Hire company | ATV Sand Bashing
ATV self-quad-riding tour for family, friends or professional riders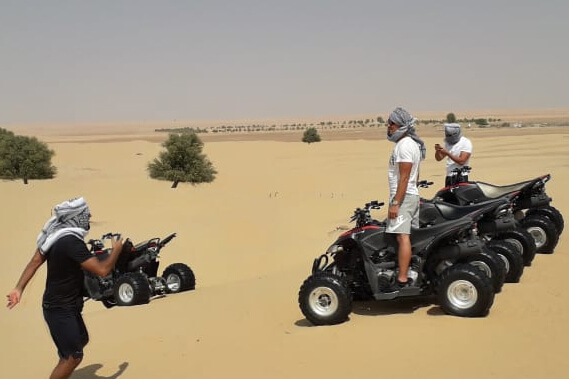 Are you on your vacation or a short visit in Doha-Qatar and searching for a family outing, group tour ride with friends, or as part of a business seminar, you will inevitably find the quad tour adventure that suits you! With our company Sand Line Dunes in Doha Qatar.
Our expert tour guides are committed to making every effort to ensure that your quad ride leaves you with unforgettable memories in Qatar's golden sand dunes.
Do not hesitate to contact them directly to obtain additional information on a quad ride, Quad-bike Rental or Quad ride locations in Doha Qatar or to take a reservation, Our company staff will be happy to answer all your questions. Whether you are a beginner or a confirmed adventurer, our team will be able to supervise you in a friendly and friendly atmosphere. We can also provide mini Quad-bikes for children (6-10) specially for small kids.
Before you venture beginning with the Qatar-quad-bike tour safety instructions will be given by our expert guides and our guests no need to worried about their safety of the journey. Total safety measures are taken which will ensure the security of client's.
How to ride a Quad / ATV
Don't know how to ride a ATV and you want to learn and have some fun in the desert, no problem we can help you, our expert tour guides will give you detailed instructions on how to ride a quad-bike and show you how to easy to control this 4×4 drive machine.
How to rent a quad-bike in Doha-Qatar
Renting a Quad-bike is easy, just send us a email using our contact form with all your details (which date and month, how many people ect. ect.). So we can arrange you the bikes.
For more information about Quad bike models, price/cost or bookings, please send us an email using our contact form or just simply send us whatsapp message for quick answer.
Contact
Check out our other desert-off-road packages & services